Archway Town Cafe, Archway, N19
Welcome back. It's been a little while, and this in any case is a breakfast I had last month, but let's keep things ticking over. I was going on a long walk that day and wanted to load up on energy, which is my excuse, but I don't want to squander this further step on my road to cardiac arrest without writing it up, so...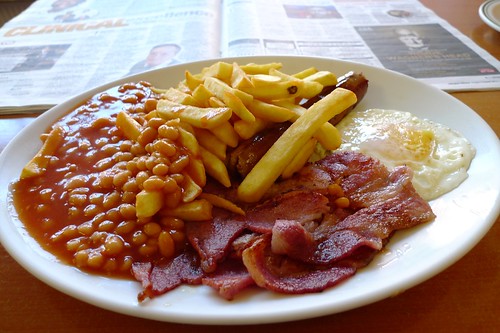 It's the classic combination really, eggs chips and beans with bacon and sausage. I tend to avoid ordering breakfast sets with chips because they don't really feel to me like breakfast food, but as ever sometimes I don't notice them in my eagerness to avoid selecting the option which omits something else I really like. So here we go. The chips in any case were crispy and fine, and not toooo greasy.
Key here is the fact that everything tastes as it should and goes down easily. The sausage was nice if undemanding flavourwise, the bacon was crispy, the beans were Heinz, and the fried egg was a bit runny in the centre. There was some soft toast to mop everything up, and a cup of coffee (or tea if that's your preference).
What's great about this cafe is that there's a piece of paper pasted up in the window that proclaims it "the best cafe in Archway" translated into a wonderful array of world languages. There are indeed many such greasy spoons in Archway for some reason, so clearly their advertising worked for me, though I can't yet assess its truthfulness. In any case, they serve up an excellently straightforward FE.
Address:
Archway Town Cafe
, 69 Junction Road, Archway, London, N19 5QU.